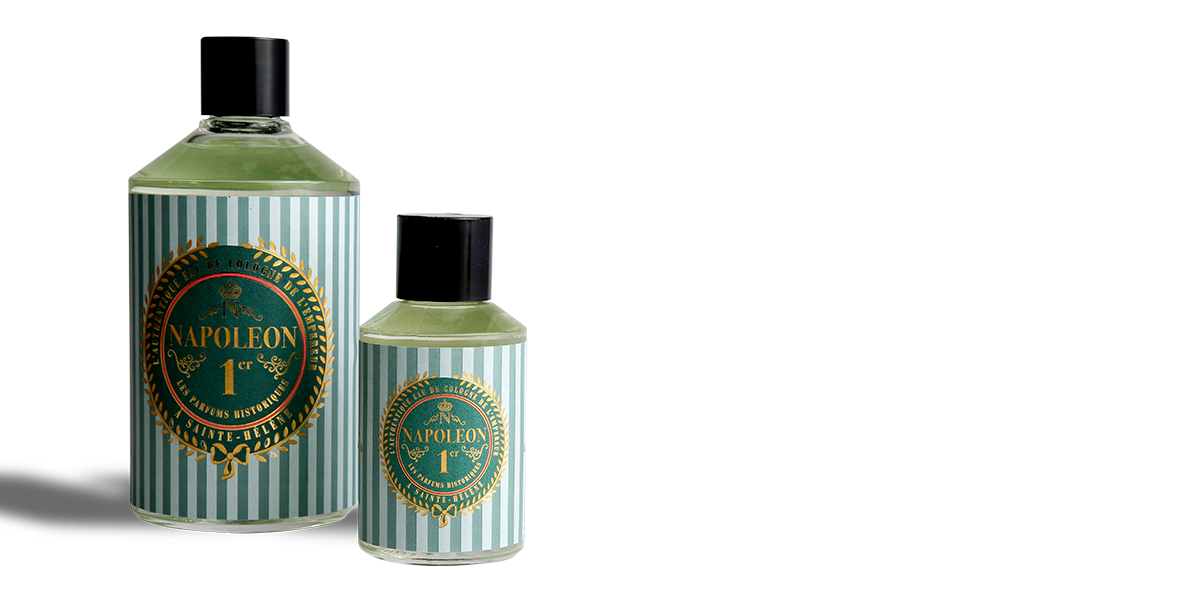 AN IMPERIAL HISTORY
With an authentic story
History of Napoleon Bonaparte in Saint Helena's Authentic Eau de Cologne
NAPOLEON IN EXILE ON THE ISLAND OF SAINT HELENA
By Maître André Damien, Member of the « Institut de France »
The time that the Emperor spent at Saint Helena – six years – is of key importance. First, it is the longest period of time he ever spent in one place The roving Emperor, a ceaseless traveller, accustomed to exciting victories from Paris to Vienna and Moscow, is suddenly forced to lead a sedentary and cloistered life in Longwood House which his English captors had assigned him, supervised by a fussy and narrow-minded Governor Hudson LOWE.
This was a painful period, but crucial for the Imperial legend, because it was there that this legend really came together, conceived as a calvary, imposed by the jailers and courageously accepted by the emperor who said one day to MONTHOLON: "if I die on the cross and were my son to live, he will arrive". And again: "If Jesus Christ had not died on the cross, he would not be God", thus showing that the suffering he endured on St. Helena was likely to make him a martyr or at least a demi-god.
His entourage shared his thoughts. BERTRAND, the Grand Marshal, at NAPOLEON's bidding, wrote to Hudson LOWE: "Do your Ministers not know that the spectacle of a great man faced with adversity is the most sublime of spectacles? Do they not know that NAPOLEON on St. Helena, surrounded by persecutions of every kind, which he faces solely with serenity, is greater, holier, and more venerable than the highest throne of the world where he was so long the judge of Kings?" Jacques BAINVILLE understood this aspect of imperial history when he wrote: "A perfect work of art, Napoleon's life is crowned by suffering and martyrdom. It is on a par with the greatest heroes, the rock of Prometheus, the pyre of Hercules or that of Joan of Arc. The Napoleonic religion evokes the cross on Calvary."
And interestingly, this Eau de Cologne, made in Saint Helena to a recipe recovered by the Emperor's entourage, participates in this legend as it reflects the scarcity that at times prevailed on that "island prison" where the Emperor was held captive.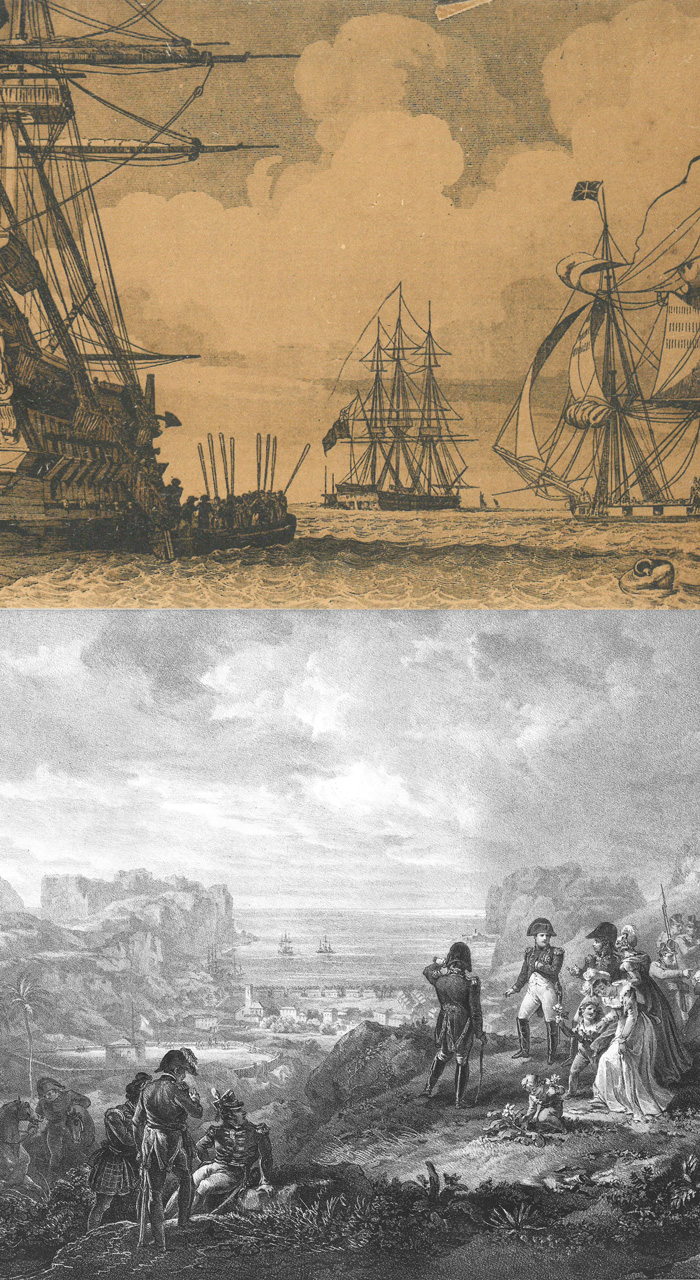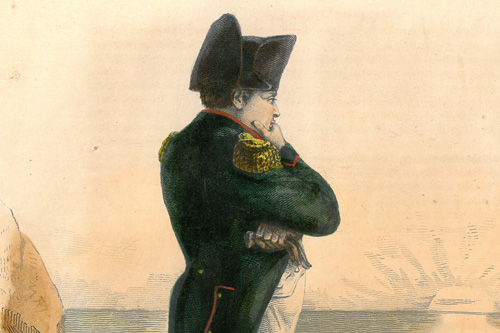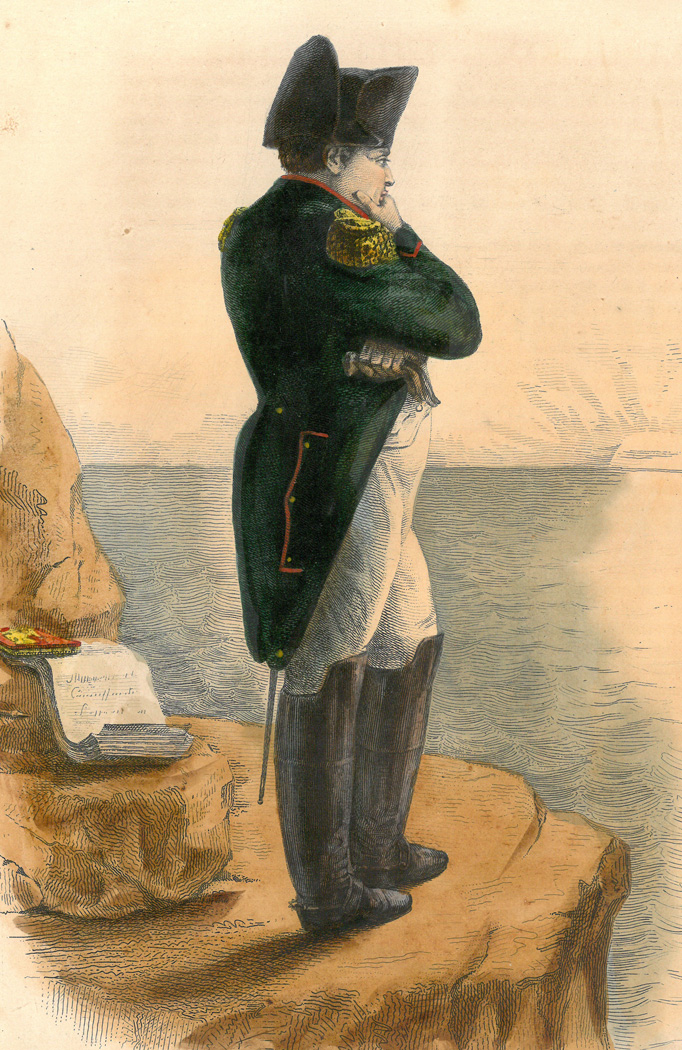 The life of Napoleon in Saint Helena, between restrictions and obligations
By Maître André Damien, Member of the « Institut de France »
At Longwood House where the Emperor would live out the last years of his prodigious existence, he wished to show to the English that he was always, and despite them, the Emperor. So he instituted a severe ceremonial regime and strict etiquette, the highest figure of this sham court being Grand Marshal BERTRAND. MONTHOLON was elevated to the rank of Major-Domo and Master of Ceremonies. GOURGAUD was his Aide-de-Camp and his Grand Esquire. The servants, still in their imperial livery corresponding to their functions, were MARCHAND, the First Valet-de-Chambre and ALI, the Mameluke. To maintain the balance of this court, it was important that the Emperor kept up the same routines that he followed at the TUILERIES or on campaign. He therefore remained regally generous, offering memorable Christmas gifts to his small band; presents from the treasures that MARCHAND and ALI had spirited to Saint Helena.
They drank the same drinks they had drunk in France, which astonished the English and Hudson LOWE who, pettily, tried to reduce the French colony's budget from 20,000 pounds to 8,000 pounds. The Emperor's answer was a scathing refusal. Better yet, he called the Governor's bluff by having some of his silverware sold in JAMESTOWN, adding that when the time came that he could afford to eat, he would go to Deadwood Camp and sit in the officers' mess where the English officers would be obligated to receive the great soldier that he still was.
Restrictions were severe and the Emperor eventually ran out of the EAU DE COLOGNE that he had used in France and at the beginning of his stay at Saint Helena and which he used for intensive body massage after the overlong and overhot baths (so said his doctors) that he liked.
What could he do? There was no EAU DE COLOGNE on SAINT HELENA, an island with a small and poor population. It could not be purchased in Europe: it would take too long to get to the island! So the Emperor put his companion's memories to work, consulting dictionaries in his library, to create an artisanal EAU DE COLOGNE, the eventual formula for which would later be found among ALI's papers.
The creation of the Emperor Napoleon I's Authentic Saint Helena Eau de Cologne
For his personal ablutions, the Emperor used copious amounts of "Water" said to be "from Cologne" discovered during his Italian campaigns (1796-1797 and 1800).
This "Eau de Cologne", initially "Aqua Mirabilis", native to Italy and inspired by the recipe for "the Queen of Hungary Water", was considered a medicine mainly because of its high alcohol content (Wine Spirit). This meant it was sold by apothecaries. Then on August 18, 1810, Napoleon I issued a decree forcing apothecaries to label medicines and to record their recipes' ingredients, a requirement that still applies to pharmaceuticals today. To get round this, manufacturers of "Eau de Cologne" changed how they referred to their products, no longer calling them medicines but "Eau de Senteur" and permitting them to be sold only by "Glovers-Perfumers". Thus "Eau de Cologne" became, definitively, a perfumery product.
During his exile on St. Helena, the Emperor began running out of his usual "Eau de Cologne" and, to remedy this, his second servant, the Mameluke Ali, managed to develop and locally produce a similar product based on documents and products found on the island. This allowed the Emperor to perform his daily ablutions ("faire sa toilette") and this use of a scented alcohol product is, without doubt, the origin of the name "Eau de Toilette".
The "Emperor Napoleon I's Saint Helena Eau de Cologne" has been reconstructed using the original recipe by Jean KERLEO and kept carefully at the Versailles Osmothèque which guarantees its authenticity and a venue where it can be sampled along with "the Queen of Hungary Water".
This Eau de Cologne, made solely of natural essences of fruit and aromatic plants, is fresh and subtle despite the artisanal methods imposed by circumstances, and is a testimony to the Emperor's refined taste.
A fragrance... and immediately a feeling: smell is an instinctive reflex, innate, uncontrollable capacity.
The sense of smell conjures up memories, allows us to transcend the temporal, to bring together the past and the present in a unified fresh sensation. A fragrance engraved in our subconscious mind transcending time, a sublime image opening the door to unlimited emotions.
Marcel PROUST evoked it very well with his « little Madeleine » in « In Search of Lost Time ».
Totally authentic, this Eau de Cologne constitutes a genuine collector's item and is « the only olfactory recollection we have of the Emperor »*.
*Maître André Damien, Member of the « Institut de France »